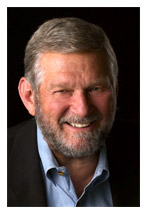 Following his graduation with honors from the prestigious Art Center College of Design in 1969 with a Bachelor of Fine Arts in Photo-Illustration / Film Direction, Dan established Dan Wolfe Studio / Productions (now Wolfe And Company Films). Initially he shot and produced editorial for the Los Angeles Times Home Magazine eventually establishing himself as a premier fashion, location and tabletop shooter and producer. Demand for his work reached the national marketplace as he shot campaigns appearing in Better Homes and Gardens, Newsweek, Redbook, Sunset and other magazines. When Publisher Budd Knapp took over Bon Appetit magazine Dan was selected to shoot the first twenty four covers along with numerous feature spreads during that two year period. The showcasing offered through Bon Appetit led to national and international advertising still assignments, including campaigns for Baskin Robbins, Carl's Jr., Coco's Restaurants, Contessa Foods, Denny's, Kahlua, Jack In The Box, McDonald's, Sizzler, Taco Bell and a host of other food oriented accounts. The range of projects expanded to include fashion, people, humor, product, big set and expansive location photo-illustration concepts.

As it happens, art directors began to recognize Dan's diverse talents and he was hired by J. Walter Thompson Advertising to create the Kawasaki campaign. Those award-winning national ads were a combination of people and product shot mostly on location. With the recognition due to the success of that campaign Dan went on to shoot for Honda, Yamaha and other motorcycle and watercraft products.

As Dan's still photography career continued to soar, he was approached by Chiat / Day Advertising for the inaugural campaign for a new user-friendly computer, the Apple Macintosh. In fact, Dan shot the campaign that made advertising history; It was an entire issue's worth of advertising in a special edition of Newsweek magazine featuring the Macintosh and no other ads – 68 pages in all. Dan's commercial live-action directorial credits for Baskin Robbins, Caesar's Palace, Denny's, Hunt's, Jack In The Box, Kawasaki, LA Herald Examiner, Mattel, Pabst Beer, Pizza California, Playboy, San Diego Zoo, Sizzler, Visa, etc. brought him to a whole new level of style and creative problem solving. As an ongoing member of the Directors Guild of America and the Academy of Motion Picture Arts and Sciences, Dan has successfully taken on a wide variety of directing and producing challenges.

Dan is a helicopter and fixed-wing pilot and has long had a passion for aviation stretching back to his early Art Center College days. By uniting his talents and interests in capturing images along with a love of flight, he became an aerial director / producer and established Wolfe Air Aviation. This cinema plus aviation company, along with Dan's unique aerial camera system company, Gyron Systems International, have created some of the best aviation action sequences on the screen today, with credits such as Navy Seals, Hunt for Red October, Hot Shots, Passenger 57, Forever Young, Point Break, Silence of the Lambs, True Lies, Executive Decision, Broken Arrow, Eraser, Air Force One, Space Cowboys, Thirteen Days, Sky Fighters, Sum of all Fears, Iron Man and Transformers, in addition to projects for NASA and the United States Air Force.

Test flight for NASA
Watch now. (82 sec.)

Wolfe Air Aviation also owns and operates a specially equipped Learjet, a highly modified Twin Cessna and an A-Star helicopter which are all being utilized to support every quality oriented production team wanting to create the very best aerial image making.